Use a next-generation solution to deliver successful outcomes.
GYF: Your Partner for SuiteSuccess
NetSuite's SuiteSuccess delivers a unified and phased pathway to succeed and scale.
Continuous Customer Lifecycle Engagement to ensure seamless continuity from sales to services to support
Full visibility across the organization to operate at the speed of modern business, drive results and scale
Fully flexible platform which allows for customization to industry and business needs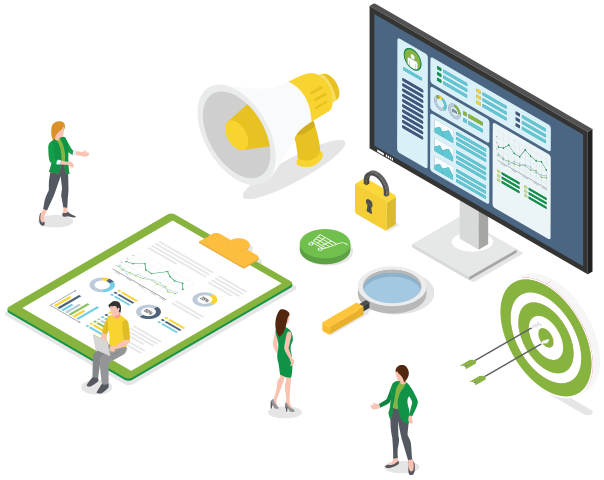 SuiteSuccess provides an integrated real-time view of what is happening across the business.
Key Pillars of SuiteSuccess

Build
A complete suite to support the modern business including ERP, CRM, PSA, omnichannel commerce, HR and Business Intelligence (BI) built on the NetSuite cloud platform, continually updated with leading edge capabilities and technologies to support all industries.

Engage
Leading practices for each industry and role including workflows, KPI reports, dashboards and metrics, with the flexibility to personalize on the NetSuite platform from the initial sales contact to on-going support. With these leading practices, value is added at each stage of the engagement.

Consume
Intelligent staged approach via NetSuite's industry stairway allows companies to consume capabilities based on their business needs. A re-imagined consumption model drives faster time to value, better ROI and greater user adoption. Companies can now go from zero to cloud in 100 days.

Optimize
Customers benefit from continuous engagement, updated leading practices, new feature releases, value added partnerships and continuous movement up the stairway. Customers are always on the latest product release.

SuiteSuccess for Deep Industry Functionality
Explore the different industries SuiteSuccess has already improved.
The SuiteSuccess platform is built to break down departmental barriers that currently exist. By unifying the front and back office, NetSuite provides full visibility into real-time project analytics and the true financial status of the organization.
Constant access to real-time data makes it simple to track and optimize the performance of your programs and improve sales and forecasting, project management and resourcing with a single source of truth. Manage your RFPs, SOWs and client communication seamlessly from roles, dashboards and KPIs based on a unified back office.
Improved workflow management, an optimized portfolio and better visibility into your resources will allow your organization to see an immediate increase in productivity—allowing more time to focus on strategic initiatives.

Leverage our deep understanding of manufacturing businesses across all sectors to ensure success through our consultative approach from sales to implementation to support, spanning your entire lifecycle.
The first step ensures manufacturers have a single view of customers, orders, items and inventory. A real-time platform with all channels are operating from a unified base is the critical foundation. Once there, manufacturers are in a better position to add e-commerce or other omnichannel capabilities to enhance and provide a greater customer experience. Freed from the constraints of their legacy systems, these businesses are then ready to tackle challenges such as a lack of visibility or inefficiencies in their supply chain. Ultimately, our focus turns to more innovative and disruptive strategies such as pricing and margin management and business intelligence.
Wholesale distribution companies constantly strive to improve business performance and increase customer satisfaction in an increasingly competitive environment. As they seek to address these challenges, distributors are concerned about the time and capital required to fix their back-end systems.
SuiteSuccess delivers a single view of customers, orders, items/SKUs and real-time reporting capabilities. Getting a business on a single, real-time operating platform is key. After moving to NetSuite, customers can choose from a number of capabilities to help streamline other parts of the business. A common next step is expanding the accounting and financial functionality of the platform to enhance reporting and automation capabilities. This phase allows for international expansion, advanced financial capabilities, more streamlined procurement processes and tighter purchasing controls.
Future steps can then be taken to tackle more complex financial challenges, including integration expansion, project management organizations, global operations and book management, and advanced compliance requirements. Eventually, customers can pursue advanced strategies such as integrated marketing, enhanced customer experience through self-service and multichannel integration.

Leverage our deep understanding of manufacturing businesses across all sectors to ensure success through our consultative approach from sales to implementation to support, spanning your entire lifecycle.
Planning and Budgeting Starter Edition
Planning and Budgeting Starter Edition is implemented following our tried and tested activation process, a rapid implementation method that better enables your business and end users on a shorter timeline. Features include:
Financial Reporting
Variance Analysis & Reporting
Trended Revenue/COGS Planning
Trended OpEx Planning
Balance Sheet and Cash Flow
Planning and Budgeting Standard Edition
Planning and Budgeting Standard Edition is intended for the organization that has reached a level where more robust planning and budgeting application and process is required to accommodate and facilitate future growth. This edition allows you to receive a necessary, foundational version of Planning and Budgeting but with the capability to lightly customize the solution to suit your existing operations. Features include all Planning and Budgeting Starter Edition, plus:
Price x Volume Revenue/COGS Planning
Driver-based OpEx Planning
Detailed Workforce Planning
OpEx Modules (T&E, CapEx, Others)
Request More Information About NetSuite
We are here to answer any questions you may have.
Navigate Through Our Expertise