The 3-Way Match Process is an important step in the accounts payable process of most organizations.  It provides a final verification that what is about to be paid has actually been received from a vendor.  This is regardless of whether the receipt is a physical item or a service.
A well-defined 3-Way Match Process addresses the challenges of:
Paying for goods and services that are not received
Inability to easily review for pricing discrepancies
Delaying bills being entered by Accounts Payable
What is NetSuite's 3-Way Match?
NetSuite's 3-Way Match is an integrated approval-driven solution to addressing the common challenges of discrepancies between purchase orders, receipts and vendor bills. Enabling NetSuite's 3-Way Match functionality will save time and money by eliminating the need to manually check vendor bill discrepancies and quantity/value variances. Through a predefined workflow you can eliminate cost variances and avoid overpayment to vendors.
3-way match increases communication between the accounts payable department, receiving department, and the purchase of the buyer. 3-way match factors in and provides notification on variances that arise without having to initiate communication with other departments to rectify and fix the variances.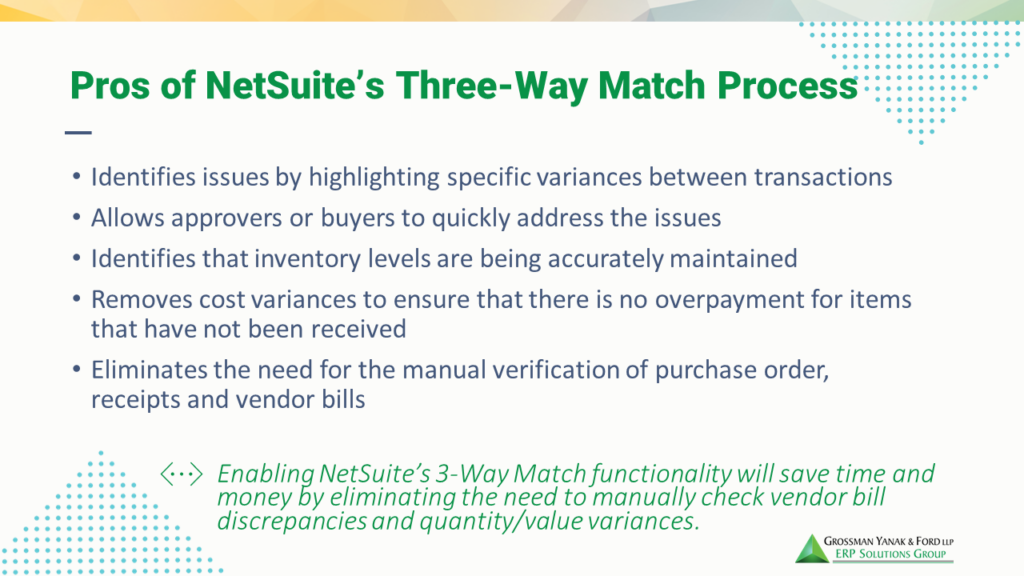 Pros to Note: Streamlined vendor bill approval process
Identifies issues by highlighting specific variances between transactions, allowing approvers or buyers to quickly address the issues
Identifies that inventory levels are being accurately maintained
Removes cost variances to ensure that there is no overpayment for items that have not been received
Eliminates the need for the manual verification of purchase order, receipts and vendor bills
Cons to Note: Limitations of 3-Way Match 
Although NetSuite's 3-Way Match provides needed controls within an organization, there are some limitations that should be noted and that GYF has resolved.
In the NetSuite 3-Way Match Process setup there are several preferences that need to be flagged in order to enable the feature specific for your organization's variance thresholds.  Although these preferences address most of the typical 3-Way Match requirements in an organization, they do not address the scenario of partial receipts with vendor billing.  
Not to worry! GYF has refined the NetSuite 3-Way Match Process to resolve the limitations in the core solution.  Watch our most recent evaluation of 3-way Match and how we were able to work around its limitations to successfully implement streamlined processes for one of our clients.